My father was probably a millionaire.
In 1929, James San Jule's father was a successful businessman in Tulsa, Oklahoma. San Jule graduated from Tulsa Central High School and had been accepted at Amherst college in Massachusetts, planning to go on to Harvard Law School. Because of his youth, his father wanted him to wait a year and arranged for him to work as an office boy in the Exchange National Bank at Tulsa.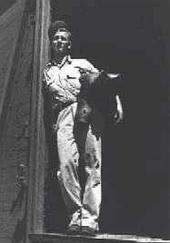 "I didn't think much of money in those days. It was just something we had," said San Jule. "My father was probably a millionaire. We owned fancy cars, a fancy house, fancy everything. I led the ordinary life of a wealthy kid, nothing spectacular." He was working in the bank in October 1929, when the debacle began.
"Of course, you didn't believe it. 'This is something that happens,' you thought. 'It will pass.' "
The Crash of 1929 wiped out San Jule's father financially and physically.
"It was a horrible, horrible period, about which I understood little. What's a kid to do? You have no worries about anything. You're going to Amherst and Harvard. All of sudden your life is blasted out of existence. It felt like being de-princed."
In the winter of 1930, San Jule ran away from home, not quite sure where he was going or even why he was leaving. It just seemed the thing to do.
Between 1929 and 1941, 4,000,000 Americans desperate for food and lodging roamed the land. Of this number, 250,000 were teenagers who rode the rails and grew up fast in speeding boxcars, living in hobo jungles, begging on the streets and running from the police and club-wielding railroad police.
I used to beg for food.
Arvel "Sunshine" Pearson began work as a waterboy in an Arkansas strip mine at the age of nine.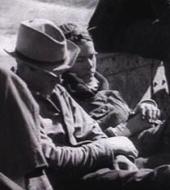 By 1929, he had already been working underground for 18 months, when the mine closed. He was 16 when he first rode the rails in 1930 and would continue to hop freights until 1942 as a migrant farm worker in summer and working in coal mines in winter.
"I thought the Depression was going to go on forever. For six or seven years, it didn't look as though things were getting better. The people in Washington DC said they were, but ask the man on the road? He was hungry and his clothes were ragged and he didn't have a job. He didn't think things were picking up.
" 'I'm going to keep going,' I said. 'Someday I will be able to face people I used to beg for food.' If I didn't have hope I would have starved to death by the time I was 17," said Pearson.
Clarence Lee was born in Baton Rouge, Louisiana in July 1913, the son of a sharecropper. When Lee was 16, his father could no longer support him. "Go fend for yourself," he told Lee.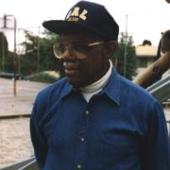 For 18 months, Lee hoboed throughout Louisiana riding freight trains up and down the state in what was essentially a search for food to save him from starving. In 1931, he found work on a dairy farm at a wage of 10 cents an hour. With his earnings he was eventually able to buy his parents out of sharecropping servitude for an amount he remembers precisely: $111.40.
"When I was riding the freight trains I didn't feel like an American citizen," said Lee. "I felt like an outcast. I was nothing but dirt as far as whites were concerned. If you asked for something to eat, some would give you a piece of bread at the back door and tell you to get off the premises. Some would sic the dogs on you. It was hurtful to be treated like that. I felt very, very down."
It was a terrible way to live.
"It was a terrible way to live. It was rough and dangerous but there was also a mystical quality," recalled Don Snyder of Toledo, Ohio, who rode the rails for three years from 1933 when he was 15. "The sound and moan of a whistle in the silent darkness echoing through the hills. The smell of the cars and the clicking of the rails. The ding, ding, ding at the crossings. The excitement of avoiding the bulls and brakies. The open prairies, the mountains and the clear skies above you. For all the hardships you feel a faint longing to hit the road again."
Grinding poverty and shattered family relations were the reasons most kids left home. Other factors, too, drove them onto the road. In 1934, schools had 25,000 fewer teachers than in 1930, with a million more pupils. Terms had been shortened in one out of every four American cities, and five thousand schools had closed altogether. By 1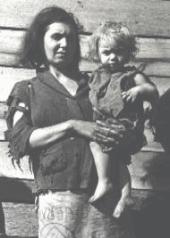 935, of ten million youths of high school age, four million were out of school.
"I have moments of real terror, when I think we may be losing this generation," said First Lady Eleanor Roosevelt, who made the youth problem a personal crusade.
How many girls rode with the army of boys on the loose was difficult to determine because the majority traveled in disguise for their safety. One estimate put the number of transient females at one in ten or 25,000.
Some traveled with young children, as happened with Harold Kolima's mother, who had three boys, ages five, seven and nine when she rode the rails. Harold, the youngest, recalled a haunting scene: "My mom, three little boys, with bed rolls and a large suitcase, and a puppy dog tagging along, walking through the railyards at Omaha, Nebraska. Looking for a freight headed west."
For four years, the family lived a "Grapes of Wrath" existence in hobo jungles and harvest camps, taking boxcars from Nebraska to follow the harvests in California.
35 Cents for Three Weeks' Work
Following the harvests provided backbreaking work at starvation wages, and sometimes no wages at all. For three weeks in 1934, Burton Williams, 16, and his brother, Vic, 14, picked cotton for a grower in Elk City, Oklahoma.
"When we told the farmer we were quitting and going home, Burton said, 'You have 35 cents each coming.' That's all we got for three weeks' work."
The Civilian Conservation Corps ( CCC ) set up by the Roosevelt government in summer 1933 gave refuge to thousands of boxcar boys in 1,500 forest camps. On a much smaller scale, the National Youth Administration established 50 training camps for girls.
"I begged for dimes on the streets of the French Quarter in New Orleans," said James San Jule, who became a union organizer. in San Francisco. In 1937, he co-authored a pamphlet with John Steinbeck on the plight of migrant workers in California. "I was angry half the time and when I wasn't angry I was sad. Why was this happening to me?
" It was more than a lack of understanding. It was an aimless, discombobulated feeling, as though the world had disappeared. The same feeling you have during an earthquake that's beyond your control.
"You were searching for something and didn't even know what the hell you were looking for. The thought that something was wrong must've crossed my mind but those days I didn't think of it in political terms. I spent so goddamn much time just staying alive."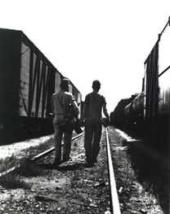 The era of the boxcar boys and girls passed with the coming of World War II and the end of the Great Depression.
Riding the rails was a rite of passage for a generation of young people and profoundly shaped the rest of their lives. Self-reliance, compassion, frugality, a love of freedom and country are at the heart of the lessons they learned. Their memories are a mixture of nostalgia and pain; their late musings still tinged with the fear of going broke again.
At journey's end, the resiliency of these survivors is a testament to the indomitable strength of the human spirit.
HOW YOUNG AMERICANS SURVIVED THE GREAT DEPRESSION
READ LETTERS of THE BOXCAR BOYS AND GIRLS
VIEW A SELECTION OF BOOKS ABOUT THE GREAT DEPRESSION
©2015 Errol Lincoln Uys
excerpted from
Riding the Rails: Teenagers on the Move During the Great Depression
Great Depression era photographs: Part of Farm Security Administration - Office of War Information Photograph Collection/ Courtesy of Library of Congress Prints & Photographs Division Washington, DC 20540. See individual image credits.
BUY NOW ON AMAZON
Print and Kindle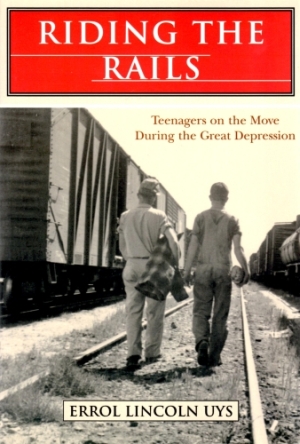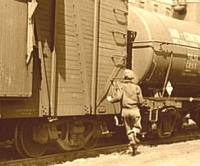 RIDING THE RAILS
ARCHIVES
The story of the 250,000 boxcar boys and girls of the Great Depression is one of the vital sagas of America in the 1930s. These archives derive from 3,000 letters written by men and women who rode the rails between 1929 and 1941; follow-up questionnaires and interviews complete a rare first-hand account of Americans living through one of this nation's bleakest eras.

Winner 18 Major Awards Including
Peabody Award
Directors Guild of America - Best Documentary
Los Angeles Film Critics - Best Documentary
Irresistible... astonishing... splendid... documentary filmmaking at its most engaging
- Los Angeles Times

Exhilarating, heart-wrenching
- New York Post

Unforgettable... a winning documentary
- Hollywood Reporter

ALSO BY ERROL LINCOLN UYS
.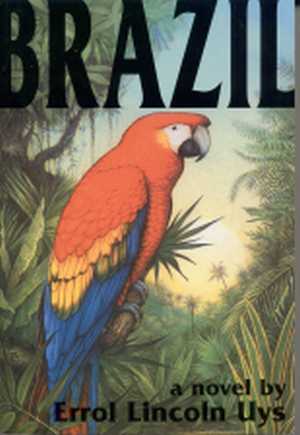 .
Uys has accomplished what no Brazilian author from José de Alencar to Jorge Amado was able to do. He is the first to write our national epic in all its decisive episodes, from the indigenous civilization and the El Dorado myth, everything converging like the segments of a rose window to that reborn and metamorphosed myth that is Brasilia.

.

He is the first outsider to see us with total honesty and sympathy and full empathy with the decisive moments in our history and their spiritual meaning. Descriptions like those of the war with Paraguay are unsurpassed in our literature and evoke the great passages of War and Peace.

Wilson Martins, Jornal do Brasil

.

A masterpiece! Brazil has the feel of an enchanted virgin forest, a totally new and original world for the reader-explorer to discover.

.

Pulsing with vigor, this is a vast novel to tell the story of a vast country. Uys recreates history almost entirely "at ground level," through the eyes and actions of an awesome cast of characters.

PRINT & KINDLE

---

A WALK WITH THE GHOSTS OF

THE DEVIL'S RAILROAD

IN BRAZIL

by

Errol Lincoln Uys