James A. Michener's COVENANT
The Secret History of a Best Seller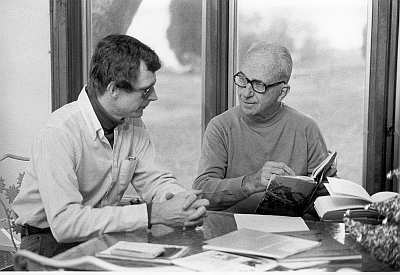 an online literary archive
The Assignment|The Plotting|The Research|The Manuscript
II
JAMES MICHENER'S COVENANT: BLACK SOUTH AFRICANS
Back in St. Michaels on August 23, Michener wrote a final note on the trip: "Philip Bateman was perfect for the job and he arranged extraordinary meetings. I accomplished all I had hoped, and he is to be commended.
"He did not however, for reasons which I am not sure I understand, arrange any meetings with blacks, and this is a significant gap which must be filled by you drawing upon such black South Africans as may be in New York, or with whites sympathetic to their cause and well informed. (I met many blacks in 1971 and have met others in London, so I am not barren; but this is not good enough for a book of this nature.)"
I'd spoken with Bateman by phone before giving him the Michener assignment, mentioning a need for these interviews but saying that I wouldn't make any reference to this in written communications with him.
In retrospect, I was probably being over-cautious but given the existing climate in South Africa with BOSS (Bureau of State Security) looking over everyone's shoulder, I didn't want to see Jim denied a visa that at the time he'd yet to apply for.
Even he had been uncertain as to whether he'd get permission to visit the country: "I can see reasons why they might not issue me one, and reasons why they might. But I am so deeply involved with this project, and so convinced that I can do a first rate and needed job that I propose to go ahead, whether the South African government grants the visa or not; which means that you two gentlemen (Oursler and me) ought to consider how we might operate in the event that I have to do all my work from America."
In 2001, when Dr. Barbara Helly was preparing her doctoral thesis on The Covenant, she asked Bateman about this omission and received an email with this explanation which appears in her thesis:
Why didn't he get to meet many blacks? This is an interesting one! The question is not why I didn't organize more black people for him to meet but why he did not get to meet many.
Here are the reasons:
Time. The programme was very tight - very compressed. We had only a matter of weeks to cover the whole country - both geographically and in terms of history - and all the other disciplines he was covering.
Experts. We had to concentrate on experts in each field. For historical reasons there were at the time very few black academics and an insignificant number - arguably none - in any of the fields he was working in. (Oddly enough the same statement would apply today, but slightly less so.)
Rejection by Adam Small. I tried to make an interview with the so-called "coloured" academic and poet Adam Small. I had great difficulty with this and he in fact turned me down. This was extraordinary considering he was one of the most outspoken people in 'struggle' politics. He would have been an ideal person for Michener to meet. I was very disappointed over this.
Credo Mutwa. He did a tour of Soweto and met a leading black businessman as well as the fascinating Zulu witchdoctor Credo Mutwa. This was admittedly a brief visit, At the time he was famous for having been the only black to have written about black history. Michener was given his book of course. He was also taken to Crossroads, the squatter camp outside Cape Town to meet some ordinary black people.
No agenda. There was no 'agenda' or underhand purpose in this. It was simply the way things happened. Had we had three months we might have met more black people but, as I've said, the vast majority of information comes from white academic sources. I don't think we could have done it any other way considering the immense time limitations.
I don't believe there was deliberate bias. We were simply practical.
Philip Bateman e-mail to Barbara Helly, April 2 2001, quoted in Dr. Helly's thesis "The Covenant, de James A Michener, un roman populaire américain sur l'histoire l'Afrique du Sud," Universite Rennes II -Haute Bretagne.
At the time, I was less concerned about this omission than Michener for my own background more than fulfilled his criteria as a white sympathetic to the struggle of South Africa's blacks. In fact, I'd already had my own misgivings about Jim's representation of blacks in the novel. I set this out in a note to Jim following our first meeting on September 9, after his return from South Africa.
I really think the in-depth black interviews are vital... At present the core of the book seems heavily weighted toward the Van Doorns and the Saltwoods, and the interplay between them and the Nxumalos is still very sketchy. Hopefully, the missionary-black effort will afford opportunity toward rectifying this. Still, when I look at the family trees of Van Doorn/Saltwood - against the Nxumalo one in my rough working notes - I have this sense of inadequacy.

Somehow, I have a feeling that what one needs do is to put aside the Van Doorns and Saltwoods and 'think' black. In other words, with all the material at one's disposal plus whatever interviews can be got, to project the entire story through the Nxumalo family. I'd be happier, for example, if I had a 30-page "rough working" synopsis on exactly the same era, placings, etc. as what now exists but concentrating solely on the black family. Then, take that and fit it against the overall Plan.

It wouldn't change it and much would be unsaid but it would bring the balance needed. We know, for example, how the Van Doorns and Saltwoods think, how they react to the great and s smaller events around them, how their opinions are shaped and their actions determined. We seem to be able to get inside them. I don't think this is yet the case with the Nxumalos who often seem to be on the periphery rather than - even if silent, watchful observers - in the main arena.

If you think I have a point here, it will probably be important that we start resolving this soon. I believe that with intelligent reading of material available and detailed interviews with as many reliable sources here, much could be achieved.

Considering the emphasis likely to be placed on South Africa's blacks at the time when the book appears, I think it will be very important to have it all in the right proportion.
That September meeting was important in taking stock of our progress and plans for realization of the novel, as well as deciding on specific research projects I was to undertake. My notes from the meeting provide a distillation of our ongoing working process, items like "Sable antelope," "de-landed Boer," "Trek," essentially flash cards that point to subject areas I was to delve into.
ELU NOTES : With Jim Michener/ September 9, 1978
Six chapters to be completed first:
1. Creation and the Diamond
2. Australopithecus - Antecedent of his? Relationship: Gracilus/Robustus?
3. The Bushman
13. Education of a Puritan
14. Apartheid
15. Contemporary Scene.
*Sable antelope: Life pattern...leit motif among animals
The Great Hunt
Rape of the Veld: "De-animalization" - how this took place
*"De-landed" Boer, 1922 etc. Perhaps through Detleef's growing up/reflections etc.
*Dutch Reformed Church split, Holland etc. 1978/79?
*"Had lived for 00? years before any member of the family saw a black man. And 00? years until actual contact with blacks"
*End of Boer section reference to fact that no universities had been established. In Peru and USA colleges soon after settlement. These were to provide a 'leadership group.' In Southern Africa, the settlement was controlled by a commercial company with its own interests in mind. It concerned itself with commerce. Analogy between the two. Not to have had this germinal material? Their (the Boers) university was a university of the Bible. It did produce a more homogenous people - but narrow-visioned
*Trianon First Van Doorn estate near Stellenbosch with view of the Mountain. Van Doorn dies, leaves young widow. She marries French Huguenot...She buries him...That ends Huguenot section.
*The Kraal 1810-1836, near Webster, closer to Grahamstown than Graaff Reinet and within distance of Slagtersnek. Makes it a 'fortress'. But it is devastated by everybody and finally burned in 1834. And some of his best blacks killed. And Hottentots. Says to hell with it...
Nachtmaal in Graaff Reinet/ Musters in Grahamstown. (Riebeek Oos?)
Black Circuit-Slagtersnek. Thaba Nchu. Natal. Vrymeer.Pretoria 1899
* Venlo five miles north-east of Hendrina
* Spioen Kop Buller. Comic counterfoil to de Groot
* Baines SA/Aussie.
* Black Muslim movement in Soweto?
• Sable
• University
• Huguenot pro rata contribution. Present evaluation?
• Old Sarum
• Spioen Kop
• Blood River and Covenant
• Buller
• Trek... American, Russian, Nguni, Boer. Mystical value to direction in traveling. Russian to rising sun. American to setting sun. Evaluation of historical, emotional and numerical importance.
"Thought God obligated to accept their covenant even though it abused rights of people He thought as much of."
In New York, I met two black exiles from South Africa, who accepted an invitation to spend a weekend in October with Michener and me at St. Michaels: David Sibeko, the "Malcolm X of South Africa," and Bernard Magubane, a professor of anthropology at New York University. In the 1960s Sibeko worked for Drum magazine, the rambunctious parent of Post newspapers, before running afoul of the South African government and being thrown into jail. Tried and acquitted of sabotage, he fled the country and became a leader of the Pan African Congress (PAC)in exile, its permanent observer at the United Nations. Sibeko was a charming passionate man devoted to freeing his people and it was sad to read less than a year later that he was assassinated on a street in Dar-Es-Salaam.
Those three days in October were as illuminating for me as for Jim. "It all goes somewhere deep inside to join with a personal sense of tragedy, of frustration, of impatience - and perhaps a silent guilt at not having done more than one did," I wrote afterwards in a note to Michener. "One is not naïve: the path that they see leading them to victory is, ultimately, a harsh, violent way. Perhaps there is still a five year period of grace in which to talk, but it seems clear that by then the burden of the past will overtake present conciliation."
Michener and I agreed on the appointment of a second legman in Cape Town, specifically to work on apartheid and black issues.
Roger Kenyon, my deputy editor at Reader's Digest who'd also become a freelancer, did excellent work ferreting out material for the apartheid chapter, digging up records of some of the most egregious cases of discrimination and racism.

©2007-2015 Errol Lincoln Uys All materials are from my personal archives, unless indicated otherwise. No items may be reproduced without permission. Web site illustrations added to material.