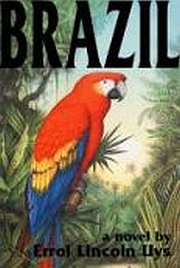 I searched for the story of Brazil for five years, a literary pathfinder wandering in quest of the untold story of the Brazilians and their epic history.

In these pages, I share my mighty journey of twenty thousand kilometers across the length and breadth of Brazil in 1981. I traveled through the heart of a nation in which the flame of freedom was newly lit after years of military dictatorship, the journal I kept colored by the voices and emotions of the era.

I explore the exhaustive processes that go into the making of a novel with a first draft of three-quarters of million words written in the old-fashioned way, by hand. I reveal the early genesis of my ideas for plot lines and characters, the detailed planning of my outline.

Of all the accolades a writer could hope for at the end of an epic work like Brazil none brought more joy than a simple question asked by the famed Brazilian historian and sociologist Gilberto Freyre.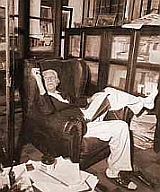 "I should like to know if Uys had an unpublished jornal intime of a Brazilian family?"

There was no private journal, just the will to understand the Brazilian "thing" and a passion for writing and storytelling, which lies at the heart of every good novel.

When I began work on my novel I knew as little about Brazil as the next foreigner. I'd once stopped over at Rio de Janeiro for three days on a flight to Africa, an instant course in cliches of Carnival, samba, beach and jungle. I'd another impression that harked back to my South African childhood, when the country was still tied to England.
Every month there arrived from London an adventure magazine for boys, its pages filled with the glories of Empire and conquests of its heroes. Among them, explorer Percy Fawcett who was most often depicted in a tiny canoe paddling past the gaping jaws of an anaconda.

Colonel Fawcett went in search of a fabulous Lost City in Brazil and vanished
in Mato Grosso. The intrepid fortune hunter lived on in the imagination of boys like myself who scoffed at the idea that an Englishman had been killed by head-hunters and pictured our champion sitting on a golden throne in El Dorado.
---
My library forays in New York over three months in 1981 provided the background for my initial plotting and book proposal. With the outline complete and broad themes of the novel well in mind, it was essential to have firsthand experience of Portugal and Brazil. I couldn't go back five hundred years, but I could make a sincere and honest attempt to know the land and its people.
I was writing a novel not a history but was committed to offering as authentic and historically accurate account as possible. In April 1981, I headed for Lisbon and three months later began my journey in Brazil.
I based myself outside Lisbon at Sintra, living in a quinta on a hillside below Moorish battlements that overlooked Sintra Palace. I would use this setting for the family seat of the first Cavalcantis to go to Brazil .
GO TO RESEARCH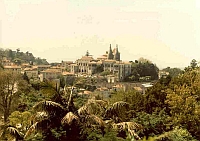 Traveling 20,000 kilometers through Brazil, almost entirely by bus, I visited the Casa Grandes; the big fazendas; the splendid beachfront apartments; the glass and concrete wonder of Brasília - the new El Dorado!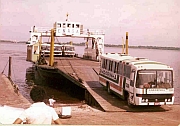 I walked the sands of Porto Seguro; I rejoiced in the atmosphere of Bahia; I stood in silence between sepulchral hills at Canudos. I climbed another hill, too, to gaze down on Vila Rica do Ouro Preto and imagine the sculptor Aleijadinho moving along Vila Rica's cobbled streets. I heard the muffled drum of tyranny presaging the last act in the drama of Tiradentes, martyr of Brazilian independence.

I wandered the sertão, the backlands, not just the wilderness beyond Bahia and in Amazonas but the sertão of the favelas of Recife and Rio de Janeiro. A literary bandeirante penetrating Brazil's past like the seventeenth century pathfinders, often feeling the thorny caatingas closing in on me but compelled to march forward like my hero, Amador Flores da Silva.
To Amador, to his father, to all who traveled with them, there would be no expression more evocative, more meaningful than sertão... It started not beyond the next rise or across the river ahead but deep within the soul, a call to paradise or to hell...
I kept a two hundred page journal on my four-month expedition across the length and breadth of Brazil. The scrawl on some pages vividly brings to mind a motorista, a bus driver, hanging on to the wheel as we sped through the caatingas. I remember triumphant cries of Asfalt! as we careened off a dirt road onto the hard-top. I remember glancing at a rear-view mirror and seeing a driver nodding off with half-closed eyes. The girl in the seat next to me on her way to join a nunnery began to pray.
GO TO THE JOURNAL

>>>>>>>>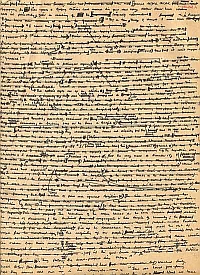 After a year on the move in Portugal and Brazil, I returned to the United States to begin writing. In November 1981,I made a dismal entry in the back of my Brazil travel journal:

November 24,1981: Exactly one month since my last entry so far away in Brazil. Try as I will, I cannot get this "breathless task," as someone called it, properly underway. I look for the faintest excuse to postpone that release of imagination, the "fire" that will send me racing through ideas and pages.

December 8, 1981: Still struggling to light the fire! Filled with unreasonable fears and doubts, and elements of self-destruction! God knows but here I am, with everything I've ever asked for and with nothing to stop me, and I am fooling around as never before. What do I expect?
Then, a third and final entry:

March 1,1982: Have just re-read all journal entries in preparation for Block Two of book, after finishing first three chapters of 50,000 words!
GO TO THE WRITING